The 70th World Health Assembly - the WHO's health-policy decision making body - took place from May 22-31, 2017. Each year, the WHO's 194 member states convene in Geneva to discuss major global health issues and to agree upon the WHO's program of work. This year's WHA also featured the appointment of the next Director General.
The G4 Alliance and global surgery stakeholders were pleased to see momentum building around the issue of surgical and anaesthesia care for the billions of neglected surgical patients!
Global Surgery Highlights at the 70th WHA:
20-21 May
The G4 Alliance hosted our Member Permanent Council (PC) Meeting in parallel with the WHA on May 20-21, 2017. The PC represents the heart of the G4 Alliance and provides the knowledge, diversity and expertise that make our network unique. Our Permanent Council represents the only collective body in the world that is passionately advocating for all neglected surgical patients.
G4 Permanent Council Meeting Photos Here
22 May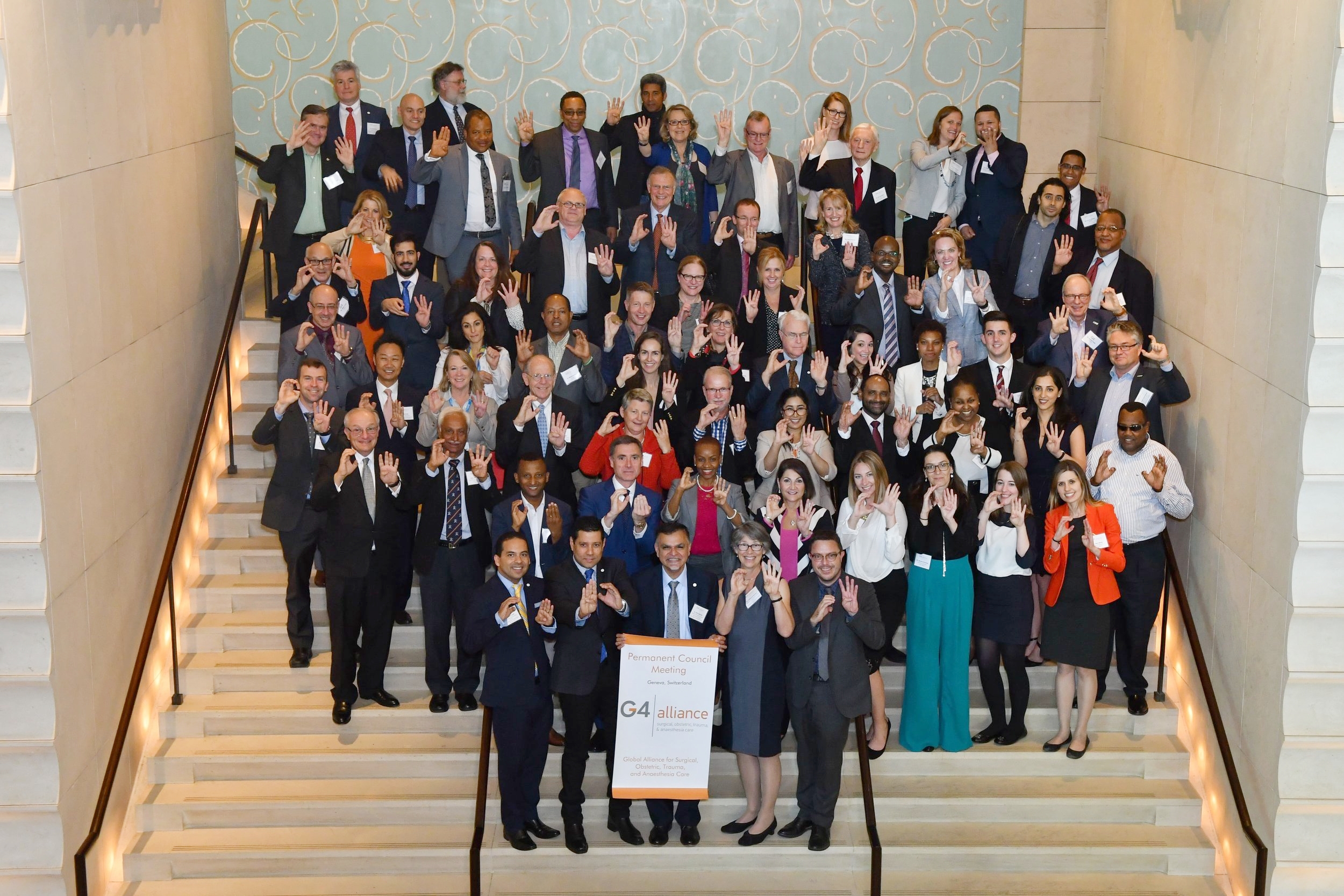 The G4 Alliance and our 80+ members, in partnership with GE Foundation and SS2020 hosted a Global Surgery Advocacy Side Event in parallel with the 70th World Health Assembly.
Entitled "From Commitment to Action: Partnerships to Strengthen Surgical and Anaesthesia Care for All", this event convened members of civil society and country representatives to highlight partnerships between NGOs, private sector and government that are supporting progress towards WHA resolution 68.15 on emergency and essential surgical and anaesthesia care.
Special guest speakers included Hon. Prof. Yifru Berhan Mitke, Minister of Health of Ethiopia, Secretary Thomas Price of the United States Health and Human Services, Dr. Mpoki Ulisubisya, Permanent Secretary of Ministry of Health of Tanzania, and Dr. Nthuli Mzaza, Director of Clinical Care and Diagnostic Services with the Ministry of Health of Zambia.
Over 150 people joined and 25+ country representatives were in attendance.
Read more here

23 May
The WHO Emergency and Essential Surgical Care (EESC) programme hosted a Global Public Health Surgery - Technical & Programmatic Working Meeting assembling country representatives and civil society to share updates and discuss strategies for scaling up universal surgical and anaesthesia care coverage. At this meeting, Zambia announced the launch of its National Surgical, Obstetric & Anaesthesia Strategic plan, developed in partnership with Harvard Program in Global Surgery and Social Change (PGSSC). Thursday also marked #GlobalSurgeryDay!
26 May
On the final day of the WHA, Member States, WHO representatives and members of civil society assembled for the report back on WHA Resolution 68.15. Thanks to all countries and NGO representatives who delivered a statement. Read the full report here and the appendix with additional details here.



Thank you to all members and organizations that attended events, advocated, and joined us on social media using #ICommit2Surgery, #SafeSurgery, #WHA70 and #GlobalSurgeryDay. This was an unprecedented year for surgical, obstetric, trauma, and anaesthesia care at the World Health Assembly and we look forward to moving the needle forward in years to come.